There are an end number of Car Rental Sites. But, finding a car rental company that provides the best services at affordable prices is not an easy task. A good car rental service provides the users with the facilities like easy booking, insurance, convenient vehicle pickup, and most importantly, a variety of vehicles in good condition.
However, we often want to look for the best prices before booking any rental car.  But, due to busy schedule and time restrictions, we don't compare the car rental sites and end up booking cars at higher prices. Therefore, to prevent you from wasting your hard-earned money, we have given the list of the top ten best car rental sites that you must go through to get the best services.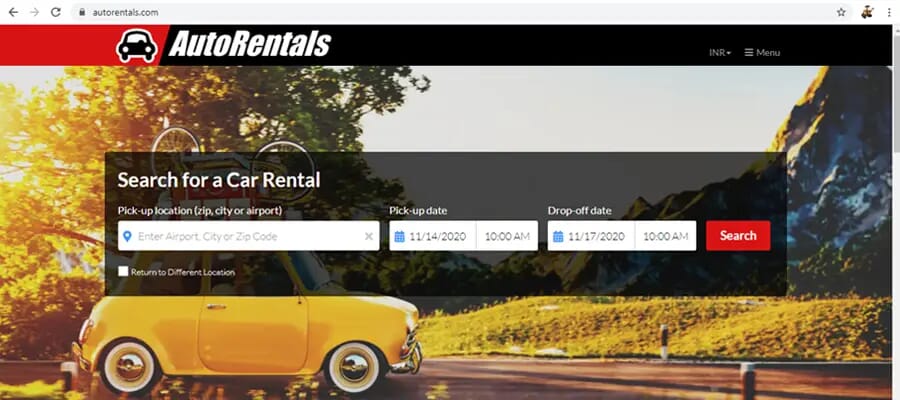 It is an ideal platform to begin your search for budget car rentalservices. AutoRentals.com is one of the best metasearch systems that show a pricing matrix of more than 25 models from various sources like online travel agencies, rental company home pages, etc., in a single place. In addition to this, the price displays include the daily posted rates as well as the all-up cost of the requested rental car.
Look at the Pros and Cons of AutoRentals.com to make a better choice:-     
Pros:- 
It covers all the major cities in the world. 
AutorRentals.com provides you with multiple useful rental companies and search systems.
It directly links you to the official web page of the vendor once you select a rental car option. 
Cons: 
A few of the "best deals" are not fully cancellable- they either entail a cancellation fee, or they are non-refundable.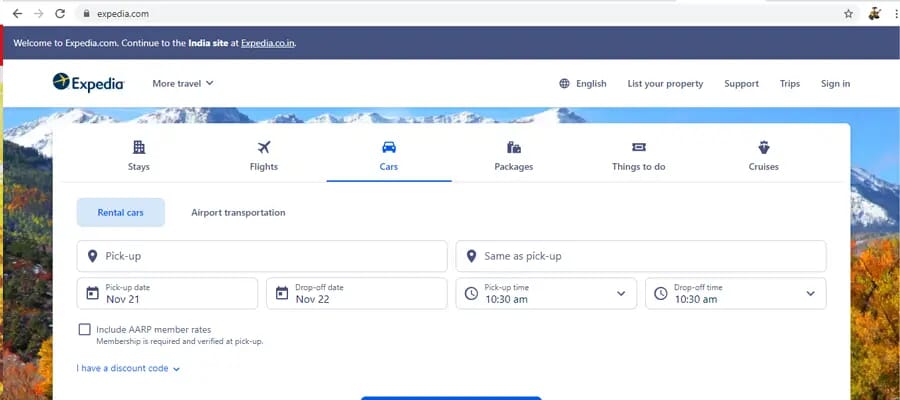 Expedia is one of the most prominent portals to book hotels, Rental cars, Flights, and Cruises. Moreover, the best thing about booking a rental car via Expedia is, you get Expedia Rewards. Above all, it enables you to bundle your car rental with a hotel or flight in a package. It saves you lots of money. 
Pros and Cons of Expedia
Pros: 
Expedia Rewards
Book the rental car as part of a travel package     
Cons: 
"Special Deals" are not always the best fares.
Sometimes you need to pay upfront to get the discounted prices.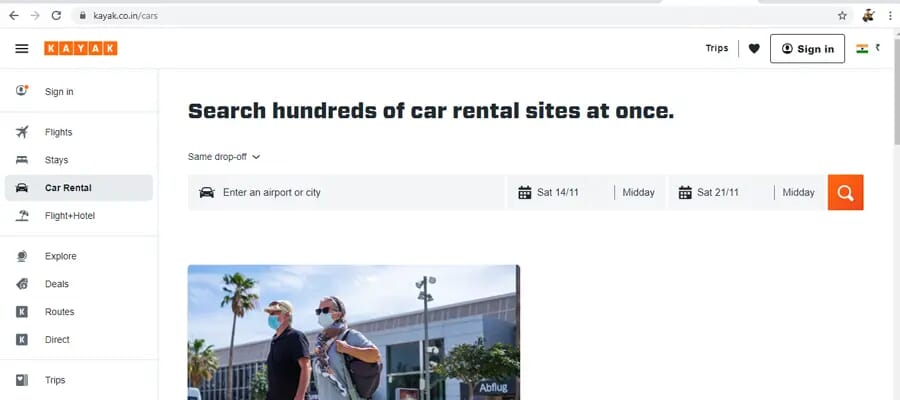 Kayak has made it easier for everyone to see all the information about various car rental sites in your search. Though it is famous for its exceptional flight booking services, it also offers good car rental services. Kayak searches for multiple car rental booking sites and agencies and provides you with the best prices. 
Pros and Cons of Kayak
Pros:
It presents you with a lot of easy to use filters like "pay at counter" or "Pay Now," along with the option only to show the hybrid cars. 
Cons:
Because it deals with numerous car rental sites, you'll often see unfamiliar companies. Therefore, always look for the reviews before booking the car.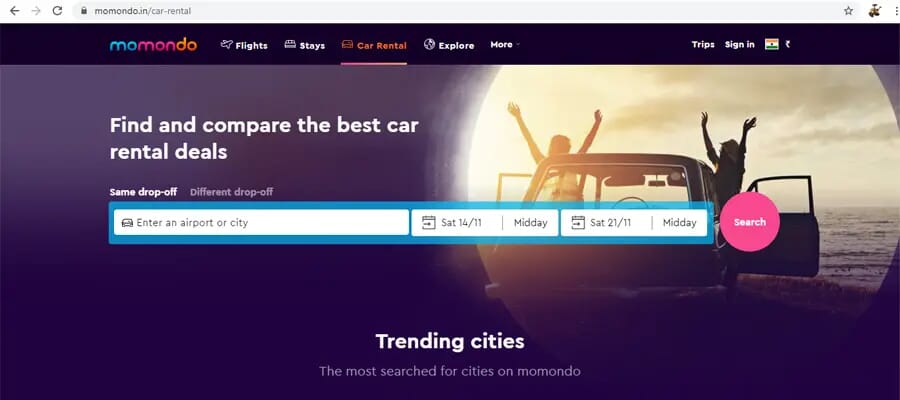 It is a metasearch engine that shows you the car rental prices from lots of different car rental and travel agencies. This is one of the best sites to compare and search for unbelievable prices. In addition to this, Momondo charges no money for car booking. 
Pros and Cons of Momondo  
Pros:
No booking fees. 
The 'Surprise Agency' booking helps you save tons of money.
Cons:
There is no loyalty program.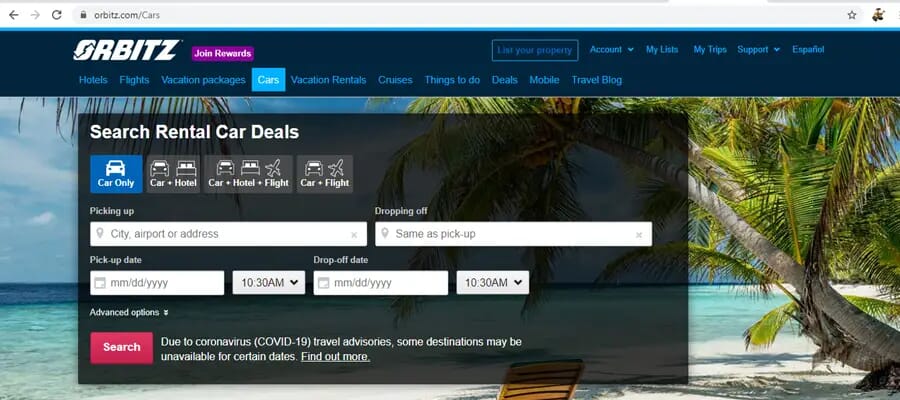 Another major platform to book budget car rental is Orbitz. It is a one-stop-destination to book hotels, flights, and rental cars. It enables you to easily compare prices as well as the ratings of many car rental companies. Moreover, it also gives you free Orbitz Rewards. 
Pros and Cons of Orbitz
Pros: 
The car rental prices under "Pay Later" are the same or lower than the Pay Now prices on other car rental sites. Hence, here you can find the cheapest car rental booking. 
It also enables you to book your rental car as a part of your travel package. 
   Cons: 
The Orbitz Rewards cannot be earned on car rentals. 
To access the insider pricing, you have to create an account.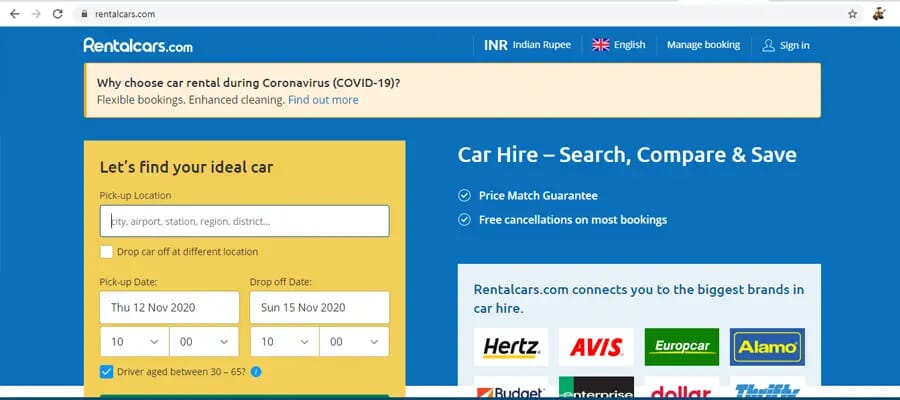 Rentalcars.com provides its services in 160 countries worldwide and provides the customers with the best and budget car rental prices. It is a metasearch system that makes it easier to compare different offers. 
 Pros and Cons of Rentalcars.com
Pros: 
Sometimes, the opaque rates it offers are lower than the prices. Therefore, you can use this facility to save money. 
Cons: 
Because Rentalcars.com provides you with numerous rental sites options so, sometimes, it also has a few options that don't have impressive ratings. 
Therefore, it is necessary to look for the car rental sites' reviews and ratings before booking the rental car.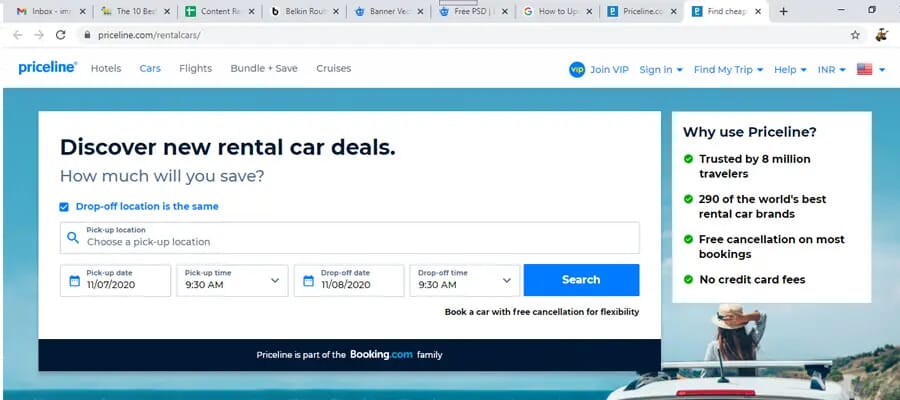 Priceline presents you with the best deals on opaque bookings where some specific details are hidden until the transaction is completed. Moreover, if you don't have any preferred car rental agency, you must check out "Priceline's Express Deals."
Pros and Cons of Priceline
Pros: 
At Priceline car rental, you can book the car as part of your travel package. 
A chance to get the lower prices possible than any other major car rental site. 
Cons: 
The opaque prices are not available for all the destinations.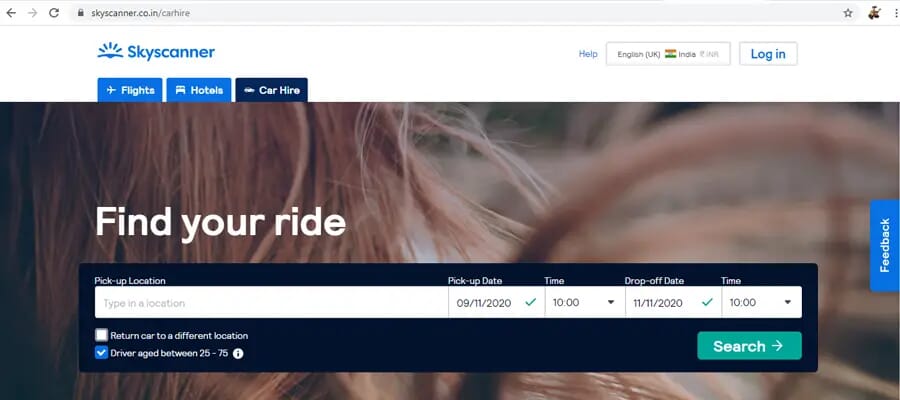 Skyscanner is one of the most trustworthy platforms that provide booking services for hotels, flights, and cars. It provides you with a fast, free, and easy rental car comparison. Moreover, here you can hire cars and the most reasonable prices. Skyscanner enables you to compare the costs of car rental companies in the world. Hence, it is so easy to book your budget car rental with Skyscanner. 
Pros and Cons of Skyscanner
Pros: 
Free, reliable, and easy to use.
Cons:
Due to the unlabeled opaque and special deals, it is hard to spot the right deals. 
9. American Express Travel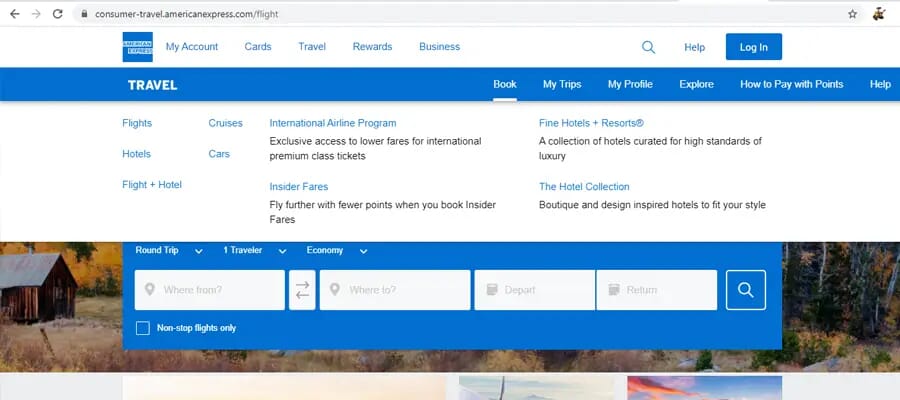 American Express Travel offers a detailed table layout to help you compare the price from different car rental agencies. However, it is not necessary to make payment via American Express credit card, but it can provide you with additional discounts and other benefits. 
Pros and Cons of American Express Travel
Pros: 
Easy to use and understand table to show which rental agency has the lowest prices. 
Earn points and bonuses from some rental agencies
Cons:
Some "pay now" discounts are not available.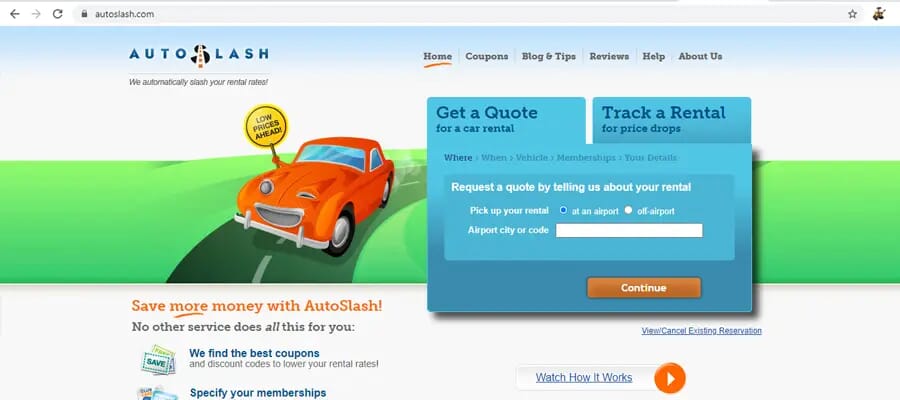 This is a bit different from the other car rental sites. Here, you are required to submit all the rental details and your contact information to get a rate quote on the rental car you want to hire. After that, you will receive an e-mail with the price quote. 
Pros and Cons of Auto Slash
      Pros:
AutoSlash provides you with various additional benefits.
You can choose a coupon from the "Coupons" section and apply it to save extra.
Cons:
The price quotes can't be got instantly. You receive the e-mail with the car rental price after 5-10 minutes of sending the request. 
We have added various metasearch platforms in the above-mentioned list that provide you with the best car rental price comparison. Therefore, it won't be hard for you to find the best car rental sites anymore.